Finding The Why – Enabling Active Participation in Life in Aged Care
Mobility Options For The Aged And Handicapped
Elderly and disabled individuals often have difficulty getting around without assistance. Fortunately, there are many mobility options available, making it possible for people with limited mobility to live fuller, more active lives. Here are some of the most popular mobility aids currently available:
1. Canes. For people who only need a little bit of assistance getting around, a cane can be a good option. Compact and portable, these lightweight devices can help people who have trouble standing for long periods of time or who have difficulty getting up or sitting down. A cane can provide support, increasing stability when rising from a sitting position or sitting down into a chair. It can also help ease tension in the lower body by carrying some of the weight of the upper body when the person using it leans on it.
2. Walkers. For people who have more serious mobility issues, a walker is another option. These devices, which are usually made of metal, are designed to provide support by allowing the person using the walker to lean on them as they walk. Depending on the design, they are available with or without wheels. Most walkers can be folded up when they are not in use. This makes them a good choice for traveling since they don't take up a lot of space.
3. Wheelchairs. Available in both manual and electric versions, wheelchairs are beneficial for anyone who cannot walk on their own or who has difficulty standing for long periods of time. Manual models either need to be pushed from behind or the person in the chair needs to be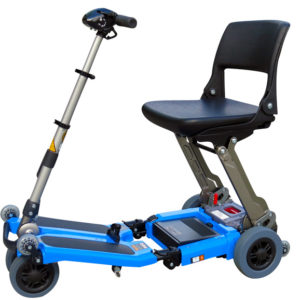 able to use their arms to turn the wheels. Electric wheelchairs, on the other hand, can be operated using a control pad that is usually mounted to one of the arms.
4. Scooters. People who have difficulty walking may also find it beneficial to use a scooter. Most grocery stores have scooters available for their patrons to use. This can make it easier for people with mobility problems to shop. Scooters aren't just limited to indoor use, however. People also use them outdoors as a way to get around. They can move surprisingly quickly, making it possible for people to get from place to place in very little time. Some models are designed to be rugged enough to take on grass, gravel, or another difficult terrain. This can allow elderly or disabled people to get places where they may not have been able to go in the past.
These days, there are more mobility options than ever available for people who have limited mobility. If you or a loved one is having trouble getting around, it is worth talking to a doctor about all of the options that are available.
The sense of freedom that comes along with being able to get around more easily is hard to express in words. There is no better feeling than being able to get out and see the world if you have been limited in your ability to do so in the past.
---
Levels Of Aged Care
The Two Levels Of Aged Care
It is true that as continuing staying in your home, you will get older, and you may not be able to do certain things such as preparing meals, cleaning, shopping and many more. It may not be possible to have someone around you to do all this. This is why you must move to a home for the elderly where such services are provided. Depending on your needs, there are two distinct packages you can choose from; low-level needs and high level needs care.
Anyone who entered an aged care facility before 1 July 2014 had to be used and classified as either requiring the high level or low-level
care. However, after 1 July, these categories were removed thus allowing homes to have more flexibility to meet the changing needs. This does not in any way suggest that those who entered the facility after 1st of July were to receive less care.
In some aged care residential home, high and low care is provided to enable the residents remain in the homes especially when there is change in their care needs. Homes that provide a safe and a secure environment while maintaining a comfortable home-like atmosphere are preferred just like Jindalee Aged Care Services Canberra.
Despite the fact that high level or low level care no longer apply for residents of aged care homes, they still apply for approvals for respite care.
Low-level level care homes provide accommodation and personal care that include dressing help, showering help and nursing care. High level care homes on the other hand offer care for aged people who have greater frailty and who require continues nursing care. The level of care in any residential facility may thus be categorized into high and low level care. However, there are basic services that must be provided without additional charges regardless of the level. Some of them are:
• Basic accommodation related services
• Maintenance of the building and the infrastructure
• Emergency assistance support
• Laundry and cleaning services
• The required meals and special diets
• Assistance in personal care such as bathing, dressing and eating
• Support for individuals with dementia
• Provision of basic toiletry like towels, soap, washers
• Social activities
In conclusion, the elderly must be helped to choose a package that can help them enjoy the stay at the facility. The package must give him access to social support as well as benefit from aids and equipment that can help in mobility, communication and personal safety
---
Chea Family Multicultural Wedding/ Two Weddings